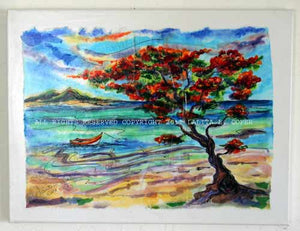 West Indies Island Reds - Prints $65.00
Regular price
$65.00 test
$0.00
Includes Free shipping within the U.S.
West Indies Island Reds, the Grenadine Islands Transparent and intense, the color red is hot and spicy, with many variations from light orange red to very dark burgundy red and all those shades in between...The 'Flamboyant Trees' (we call them the Royal Poinciana tree) are spectacular throughout the spring into late summer, and like the West Indian hot sauces, the colorful trees just spark up the senses! Original SOLD, Prints available $65.00.
Media
Signed limited edition print includes shipping US.
---
Other Sizes
Often times my fine art prints can be ordered in additional sizes to fit your needs. Please contact me if you are interested in additional sizes.
Guarantee
Your purchase is very important to me. I want you to be completely happy with your new painting. If you are unhappy simply return the painting for a full refund! Read the full return policy for more information.
---