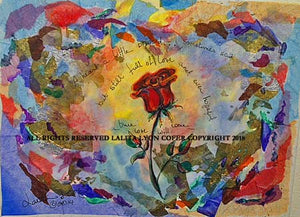 Ever Hopeful, Condition of the Heart Series
Regular price
$300.00 test
$0.00
Includes Free shipping within the U.S.
"A heart a little bruised...sometimes sad But still full of love and ever hopeful True love will come."
Media
Experimental Work, Pen and water media combined with hand stained papers, gold, silver and copper leaf in a collage over canvas.
Original Details
Original 9x12x1 inch convex beveled gallery wrap canvas
---
Other Sizes
Often times my fine art prints can be ordered in additional sizes to fit your needs. Please contact me if you are interested in additional sizes.
Guarantee
Your purchase is very important to me. I want you to be completely happy with your new painting. If you are unhappy simply return the painting for a full refund! Read the full return policy for more information.
---