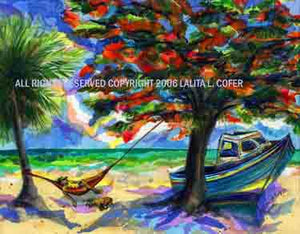 Chillin After the Catch Is In - Original Painting and Prints
Regular price
$69.00 test
$0.00
Includes Free shipping within the U.S.
Chillin' After the Catch Is In, my whimsical iconic image of a man's daily rest after a hard day of fishing in the paradise of the tropical island.
Media
Pen and wet pigment on Rice paper combined with a collage of hand stained papers over canvas.
Original Details
Original 24x30 inch convex beveled gallery wrap canvas, includes shipping within the US.
Print Details
Print 11x14 inch signed fine art archival image, includes shipping within the US.
---
Other Sizes
Often times my fine art prints can be ordered in additional sizes to fit your needs. Please contact me if you are interested in additional sizes.
Guarantee
Your purchase is very important to me. I want you to be completely happy with your new painting. If you are unhappy simply return the painting for a full refund! Read the full return policy for more information.
---